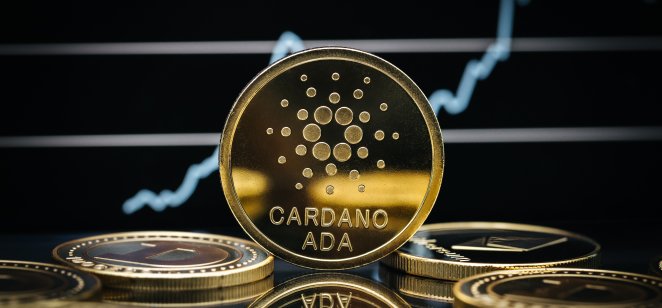 Cardano (ADA) is to undergo the new Vasil hard fork later in September, which could improve the network's connectivity and stability. With the ADA coin losing over 50% of its value, could the long-awaited upgrade spark investor enthusiasm and boost the price?
Here we take a look at the latest news and other factors that may shape an ADA to USD forecast in 2022 and beyond. 
What is Cardano (ADA)?
Cardano, labelled by supporters as the "Ethereum killer", was designed to be more scalable, interoperable and sustainable than its rival. 
Launched in 2017 as a third-generation crypto platform, Cardano is a decentralised proof-of-stake (PoS) blockchain. It was founded by Charles Hoskinson, Ethereum's co-founder, who disagreed with the blockchain's other co-founder, Vitalik Buterin, over whether Ethereum should be commercial. 
According to its website, Cardano is the first platform to be created following a series of peer-reviewed research and evidence-based methods. The project was designed by a number of engineers and academics in the cryptography and blockchain fields. 
In September 2021 the platform gained smart contract capability, which allows for the creation of decentralised apps (dApps), new cryptocurrency tokens, games, non-fungible tokens (NFTs) and more. 
The platform was designed to be developed in "eras", each  named after a prominent figure in poetry and computer science history, including Byron, Shelley, Goguen, Basho and Voltaire.
Basho is the blockchain's current era (as of 16 September). It intends to bring more scaling and optimisation to the network. Voltaire will be the last era in the Cardano development. It will focus on governance. 
ADA is the native token of the Cardano network. It was named after Ada Lovelace, a 19th century mathematician, recognised as the first computer programmer. ADA tokens can be used as a secure exchange of value without the need of a third party. Anyone in the world can own the cryptocurrency. Each ADA transaction is recorded on the blockchain. 
ADA's initial coin offering (ICO) started in September 2015 and lasted until January 2017. Around 25.9 billion tokens were allocated for the sale. All were sold during the ICO. This represented 57.6% of the total ADA token supply.
The cryptocurrency has a maximum supply of 45 billion coins. As of 16 September, ADA's total supply was capped at 34.8 billion, meanwhile its circulating supply stood at 34.1bn. 
ADA price chart: Technical view
The ADA to USD rate jumped 4,196.6% between October 2017 and 1 April 2018, rising from $0.02593 to its then all-time high of $1.1141. 
The positive rally did not last long. ADA lost much of its value by mid-January, falling back down to $0.02. 
For the following two years, the ADA to USD exchange rate fluctuated between $0.02 and $0.09, until it managed to reach the $0.1 level at the beginning of November 2020. 
In less that a month, the ADA value climbed by 112.2%, from $1.0883 on 25 April 2021 to $2.3091 on 16 May 2021 as the blockchain announced that all "technical infrastructure" continued to be developed for smart contracts on Cardano and the platform would also soon launch its peer-to-peer (P2P) testnet to a small group of users. 
September was a positive month for the ADA to USD exchange rate as the coin surged nearly 55% in a little more than two weeks, from $1.9266 on 17 August 2021 to its all-time high of $2.9682 on 3 September 2021, ahead of its Alonzo hard fork which introduced smart contracts to Cardano. 
Since then, however, the token has declined. The ADA to USD current exchange rate (as of 16 September 2022) was trading at $0.4638 – down around 85% since the 2021 high, affected by negative overall market sentiment, surging inflation and interest rate hikes by the US Federal Reserve (Fed). 
ADA prepares for another hard fork
On September 12, Cardano celebrated the first anniversary since the Alonzo hard fork update that introduced the deployment of a wider range of dApps into the ecosystem. Since then, over 3,000 smart contract scripts have been added to the Cardano blockchain. 
The biggest news driving the ADA to USD price chart in recent days is the announcement of the upcoming Vasil mainnet upgrade, due to take place on 22 September 2022, one week after the Ethereum Merge transition. 
"The main event in the Cardano ecosystem is the Vasil hard fork, the biggest upgrade since the Alonzo upgrade which launched smart contracts. Vasil will give Cardano improved connectivity and overall network stability," Dr. Martin Hiesboeck, head of blockchain and crypto research at Uphold Inc., told Capital.com. 
The Vasil hard fork was originally scheduled to be released in June, but was postponed to a later day, similar to the Ethereum Merge. The ADA to USD price has also been affected by the Ethereum Merge, according to Mark Fidelman, director of SmartBlocks, who noted:
"The Ethereum Merge has impacted the price of Cardano because the Merge is going to take some of the things that Cardano does and make them better and faster. I think people are generally bearish on Cardano just because of the contrast between Ethereum and Cardano [at the moment]."
In other news, DappRadar, one of the biggest dApp stores, announced at the start of September 2022 its support for Cardano. It asked the blockchain's developers to submit their dApp contracts onto the platform. 
At the end of August 2022, the ADA to USD price benefitted from Binance US, a subsidiary of the crypto giant Binance, adding staking for the coins. Around the same time, Cardano's blockchain Input Output Global (IOG) funded a $4.5m blockchain hub at Stanford University.
Between 28 August and 10 September, the ADA token surged around 20% amid the positive news. 
In November Cardano will hold the Cardano Summit 2022 in Switzerland, which could have an effect on the ADA to USD exchange rate. The summit will focus on presentations and updates from Cardano's dApp developers and showcase a number of projects built on the blockchain. 
ADA to USD price prediction
In line with the latest downward price action, algorithm-based forecasting service Wallet Investor gave a bearish ADA price prediction at the time of writing (16 September). The site noted that ADA was "a bad long-term investment".
Based on its analysis of past price performance, Wallet Investor predicted that the ADA to USD exchange rate could fall to $0.0531 in 2023. The site did not provide an ADA price prediction for 2027.
DigitalCoinPrice, on the other hand, gave a bullish ADA to USD price prediction expecting the token to grow to $0.67 by the end of 2022 and reach $2.19 by the end of 2025. By 2027, the site predicted that the price of ADA coins could reach $2.38. Its long-term ADA to USD token forecast showed the cryptocurrency reaching $6.66 by 2030.
SmartBlocks' Fidelman noted that Cardano needs to innovate in order to succeed:
"There's a lot of potential and promise, but there's an old phrase from the 80's: 'where is the beef?' that's relevant here. It's the eighth largest crypto token by market cap. However, because they haven't done much with it, the risk is that people will abandon it for the new Ethereum."
Crypto advisor Victoria Kennedy highlighted the risks associated with AD:
"There is a considerable reduction of the selling pressure in Cardano due to 73% of the ADA supply being staked. Like any crypto project – it carries a risk, but this is considerably reduced since the coin has a market capitalization of 16bn and a company behind it with more than $500m in its treasury."
Note that ADA/USD predictions can be wrong and shouldn't be used as a substitute for your own research. Always conduct your own due diligence looking at fundamental and technical analysis, a wide range of commentary and latest news. Remember that past performance does not guarantee future returns. And never trade money that you cannot afford to lose. 
FAQs
Why has ADA to USD been dropping?

Since reaching its all-time high in September 2021, the ADA token has been on a bearish trend with its price highly affected by broad negative market sentiment.
Will ADA to USD go up or down?

As of 16 September, algorithm-based forecasting service Wallet Investor predicted that the ADA token price could fall to $0.0531 in 2023. On the other hand, DigitalCoinPrice forecasted that the token could reach $0.67 by the end of 2022 and jump to $2.19 by the end of 2025. Note that algorithm-based forecasts can be wrong.
When is the best time to trade ADA to USD?

Cryptocurrency markets are open 24/7, which means you can trade ADA to USD at any time of day. Looking at price charts, and following the latest news and updates to conduct your own market analysis could help you figure out which time is best for you.
Is ADA to USD a buy, sell or hold?

Your trading strategy for ADA to USD should be based on your personal circumstances, risk tolerance and portfolio composition. You should do your own research to develop an informed view of the market.

Always conduct your own due diligence looking at fundamental and technical analysis, a wide range of commentary and latest news. Remember that past performance does not guarantee future returns. And never trade money that you cannot afford to lose.
Further reading: