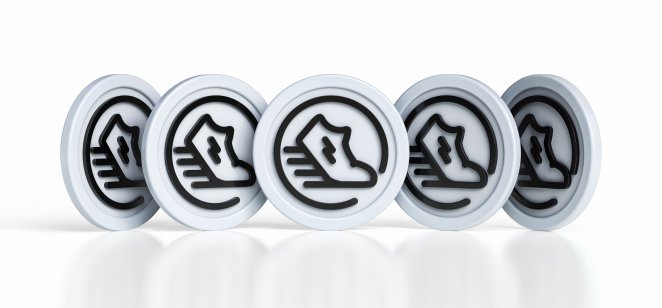 Green Satoshi Token (GST) is the in-game cryptocurrency for the STEPN blockchain game, which players can earn by running, walking or jogging in STEPN-minted non-fungible-token (NFT) shoes. It is an early form of the 'move to earn' concept, which is gaining popularity in the metaverse.
The STEPN team hopes to achieve a major advance by integrating social and community features into their platform, allowing advocates of an active lifestyle to earn cryptocurrencies via their passion for running.
While the Web3 craze is on the upswing, things are looking bleak for the GST token. According to CoinMarketCap, GST fell to a record low of $0.03253 on 7 September, a 99.63% decline from its all-time high of $9.03 on 28 April 2022. 
At the time of writing on 16 September, the GST SOL chart showed the price stood at 0.03327.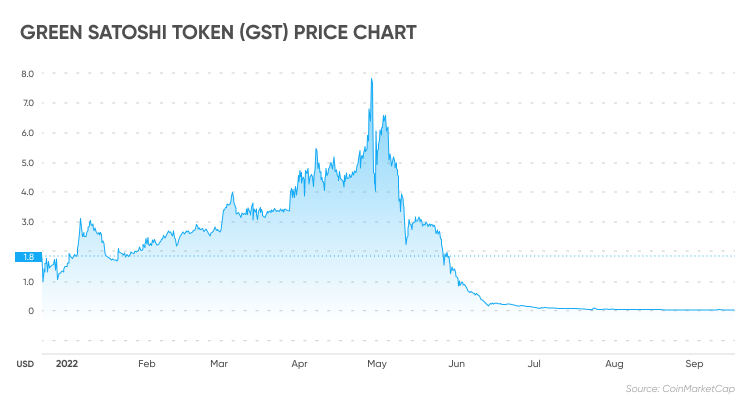 Read on to find out how many GST there are, who owns the most GST and how much of the token whales control? Here we take a look at the GST circulating supply and ownership concentration.
What is Green Satoshi Token?
Australia-based finance studio Find Satoshi Lab launched STEPN in August 2021. The project placed fourth out of more than 500 at the Solana Ignition Hackathon 2021.
The STEPN team aims to advocate an active lifestyle and enable users to earn cryptocurrency from their passion for running and tackling climate change.
GST is the token used to interact with the STEPN app. The app allows users to burn, spend or earn GST by walking, jogging or running outside. GST tokens can be used in-game or traded for cash. Green metaverse token (GMT) is the governance token for the STEPN network.
To begin, a user must download the STEPN mobile app, create an account and then a wallet. The user then puts solana (SOL) tokens into the in-app STEPN wallet, navigates to the in-app marketplace, purchases NFT sneakers and waits 24 hours for energy replenishment.
GST was initially introduced on the Solana blockchain and was also expanded to the BNB Smart Chain (BSC) at the end of May 2022. 
To fight climate change, users can opt to give their GST earnings, which will be converted to USDC/Fiat, and donate to the purchase/burning of carbon credits.
GST tokenomics: How many green satoshi tokens are there?
While the supply of most cryptocurrencies is capped, the GST token has an infinite supply, making it an inflationary token.
How many green satoshi tokens are there? According to CoinMarketCap, there is a total supply of more than 542 million GST tokens and a current circulating supply of 532 million.
STEPN has included many burn mechanisms to ensure the sustainability of GST. These include the upgrading of in-game items such as shoes and gems, the unlocking of gem sockets, the uncovering of mystery boxes and repairs. GST is also utilised to mint new and innovative sneaker NFTs.
Who owns the most GST?
According to CoinCarp, as of 16 September, there were 757,045 GST holders, a 0.43% growth from 753,745 on 18 August.
Who has the most GST in 2022? According to statistics, the top 10 coin holders held 71.27% of the total quantity of GST coins. The top 100 holders had 85.74%.
At the time of writing, the biggest GST whale had 33.39% of the total quantity of green satoshi coins. The wallet has 181,210,656 GST tokens, equal to $6.03m. The second-largest GST wallet had 57,583,792 tokens or 10.61% of the total supply.
Another major whale had 54,142,738 GST coins, or 9.98% of the GST supply, making it the third-largest holder of GST.
With just three holders controlling more than 50% of the GST supply, the token is vulnerable to extreme price fluctuations. However, due to the inherent nature of cryptocurrencies, it is impossible to determine who owns these addresses.
The road ahead for GST
Within months of inception, GST crypto became one of the most sought-after cryptocurrencies. On 28 April, it achieved a record high of $9.03, according to CoinMarketCap.
However, after reaching the peak, the price action of GST has been bearish, and it had declined 99.63% to $0.03322 as of 16 September.
During the second quarter of 2022, STEPN generated $122.5m in revenue from platform fees. The cryptocurrency said it would use 5% of its income to launch a repurchase and burn programme for the second quarter GMT.
STEPN also announced the allocation of cash reserves to enhance current features and the team's expansion.
On 18 August, WhaleFin announced a collaboration with Spanish football club Atlético de Madrid and STEPN to release a limited edition of 1001 unique Genesis NFT Sneakers. The collection includes one-of-a-kind common/uncommon/rare walkers, joggers, runners and trainers that may be used to earn prizes in the STEPN app.
Despite such financial outcomes and collaborations, GST has failed to gain substantial momentum, and its trading activity has remained mostly bearish.
According to CoinCodex, the current market sentiment for GST coin depicted 'extreme fear'. Green Satoshi Token had 8/30 (27%) green days in the past 30 days. CoinCodex further forecast that the adverse sentiments would worsen over the next few days, with the green satoshi token price falling by 26.59% to $0.024490 on 23 September.
The bottom line 
Although knowing how many green satoshi tokens there are and who owns the most GST may be crucial, you should always perform your own due diligence before trading, studying the latest news, technical and fundamental analysis, and analyst commentary.
Previous performance does not guarantee future results. And never trade with money you can't afford to lose.
FAQ
How much is the Green Satoshi Token?

As of 16 September, Green Satoshi Token was trading at $0.03322, a decline of 99.63% from its all-time high price of $9.03, achieved on 28 April 2022.
Where is Green Satoshi Token traded?

GST is widely traded on all major cryptocurrency exchanges, such as Gate.io, Huobi Global, and Coinbase, among many others. According to CoinMarketCap, the most popular market for GST tokens was Gate.io, which had a 25.79% share, followed by Huobi Global, which had a 5.4% stake.
Is GST a good investment?

Green Satoshi Token is the in-game currency of STEPN, a Web3-enabled 'move-to-earn' fitness game based on the Solana blockchain. Players initially use GST to purchase or rent sneakers, which are represented as NFTs, from the in-game marketplace. STEPN users earn GST by walking, jogging, or running outside, which can be used to level up or buy new in-game footwear.

GST price action has been bearish for the past few months, and the top three holders control more than 50% of the circulating supply of GST tokens, leaving it extremely vulnerable to pump and dump price schemes.

Whether a high-risk asset like GST is a good fit for your portfolio depends on your circumstances and risk tolerance. You should do your own research and analysis, taking into account your expertise in the market and attitude towards risk and who owns the most GST. Remember never to trade or invest money you cannot afford to lose.
Further reading: