Demographics of new buyers starting to change, a Bank of Canada report shows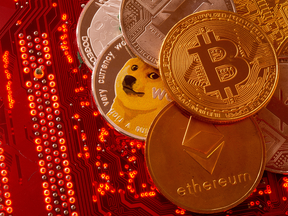 Article content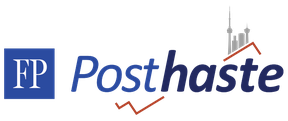 Good morning!
Article content
More Canadians have become enamoured of cryptocurrencies with bitcoin ownership rising so "sharply" that its ownership demographics are starting to change, according to a commissioned report by the Bank of Canada released Wednesday.
The share of Canadians who owned bitcoin rose to 13 per cent in 2021 from five per cent in 2020, the central bank said in its 2021 Bitcoin Omnibus Survey, an annual look at the digital currency that the central bank began tracking in 2016. Measurements of bitcoin ownership for 2020 came from the Bank of Canada's Cash Alternative Survey.
"This increase occurred following widespread increases in the savings and wealth of Canadians during the pandemic," the Bank of Canada's summary of the 2021 survey said.
Article content
Canadian households had a savings rate of 27.2 per cent in the second quarter of 2020, the height of COVID-19, Statistics Canada reported at the time. That figure has fallen over subsequent quarters and was 6.2 per cent in the second quarter of 2022, but that's still above the historical national average of approximately two per cent.
All the extra money resulted in what the Bank of Canada report called "significant increases in Canadian investment in mutual funds and securities denominated in foreign currencies, as well as crypto assets."
The central bank said easier access to cryptocurrencies also led to more buying. For example, some fintech companies, such as Wealthsimple Inc., began making bitcoin available alongside more traditional investment options. A small majority of bitcoin owners (53 per cent) did their purchasing via apps rather than web-based exchanges (47 per cent), mining (23 per cent) or visiting a Bitcoin ATM, the report said.
Article content
The Bank of Canada's survey, conducted in December 2021 by pollster Ipsos, also found the demographics of bitcoin owners is changing.
Bitcoin owners are still more likely to be "relatively young" men, who are well educated with a good income. But 68 per cent of bitcoin owners aged 55 and older were recent buyers, even though this age group still only accounts for 11 per cent of recent owners and 4.6 per cent of long-term owners.
"By contrast, both men and young Canadians (aged 18 to 34) appear to be slowing down their participation in the bitcoin market," the report said.
The 34-to-54 age group seems to be picking up the slack, with that cohort's ownership rising to 15 per cent in 2021 from about six per cent in 2020.
More women also showed up as recent buyers (33 per cent) than in the long-term owner category (24 per cent), but that could be because men tend to "skew" toward the longer-term owner category, the report cautioned.
Article content
Owners' education profiles are broadening to include more individuals with a variety of levels of educational attainment including college/CEGEP (in Quebec), the trades and high school.
The motivations of new buyers were found to have differed from those of long-term owners, with the former more likely to make a purchase for investment reasons than for payment purposes, unlike the latter.
If investment was a motivator, it was also the top source of buyers' woes in 2021. Twenty-five per cent of survey respondents reported experiencing "price crashes" last year, up from 18 per cent in 2019, and no surprise given the value of bitcoin fell 35 per cent in 2021. The price of bitcoin so far this year is down 60 per cent.
Article content
Crime was another worry of bitcoin owners.
"Owners also reported experiencing a variety of other incidents, such as losing access to their wallets (11 per cent), initial coin offering scams (seven per cent), stolen funds (seven per cent), and data breaches (six per cent)," the report said.
_____________________________________________________________
Was this newsletter forwarded to you? Sign up here to get it delivered to your inbox.
_____________________________________________________________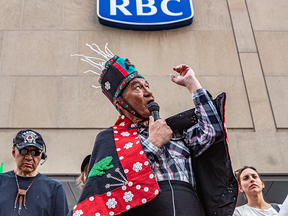 RBC PROBE The Competition Bureau has opened an inquiry into Royal Bank of Canada's environmental representations and marketing following a complaint last summer that the bank's claims to be a climate leader were misleading because of its continued financing of fossil fuel projects. RBC said it "strongly disagrees with the allegations in the complaint." It was lodged by six individuals with support from various environmental groups including Ecojustice and Stand.earth, writes the Financial Post's Barbara Shecter. Photo by Dave Sidaway/Montreal Gazette/Postmedia
Article content
___________________________________________________

Darren Fisher, Liberal MP for Dartmouth—Cole Harbour; and Shannon Harding, director of education and engagement, Clean Foundation, will make a clean energy funding announcement
Pablo Rodriguez, minister of Canadian heritage and Quebec lieutenant, will announce federal funding to support the growth of SOPREMA, a manufacturing company that specializes in the production of waterproofing, insulation, soundproofing and vegetated solutions for the roofing, building envelope and civil engineering sectors
The Saguenay-Le Fjord Chamber of Commerce hosts a "lunch and learn" with Pascale St-Onge, minister of sport and minister responsible for CED. The topic will be the green transition
The parliamentary budget officer will post a new report entitled "Economic and Fiscal Outlook — October 2022" on the website at pbo-dpb.ca
Canada Mortgage and Housing Corporation releases report called "The Road Ahead for the Economy and Housing — Fall 2022 Update"
Valerie Bradford, Liberal MP for Kitchener South—Hespeler, will make an announcement in support of a Cambridge-based aerospace manufacturer
The Future Borders Coalition hosts the 2022 Transportation Border Summit. A bilateral summit on better borders for travel and trade
Gov. Gen. Mary Simon will deliver a keynote address in Reykjavik, Iceland, on global Arctic collaboration followed by an armchair discussion with Olafur Ragnar Grimsson, founder and chair of the ACA, on Arctic issues and on Canada's role and leadership in the Arctic
Meeting of G20 finance ministers and central bankers in Washington, D.C., ends
Today's data: U.S. inflation, U.S. initial jobless claims for week of Oct. 8


Earnings:

BlackRock Inc., Delta Air Lines Inc., Domino's Pizza Inc.

Article content
___________________________________________________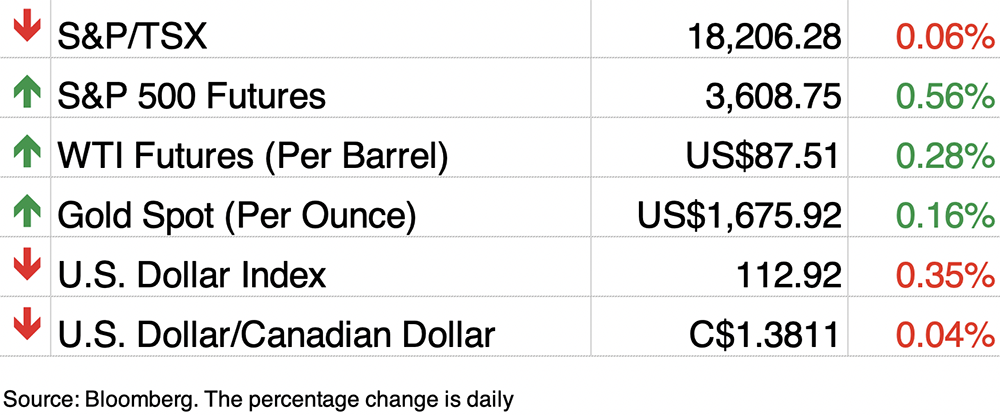 _______________________________________________________


_____________________________________________

A recession will take hold in Canada in the first quarter of 2023, sooner than initially predicted, economists at Canada's largest bank said Wednesday.
Article content
Royal Bank of Canada made waves in July when its economics shop became the first on Bay Street to forecast a recession. Claire Fan and Nathan Janzen originally predicted the downturn would come in the second quarter, but in a new report they said various factors will "hasten the arrival of a recession in Canada," including rising interest rates.
"Cracks are forming in Canada's economy," Fan and Janzen wrote.
Read the full story here.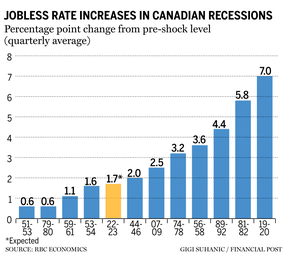 ____________________________________________________

It's a fact that environmental disasters such as flooding causes expensive damage to Canadian homes every year. Part of the issue is that many homeowners don't understand the risks that come with the areas where they live, such as flooding. Flooding alone costs approximately $1.5 billion in damages annually, and 75 per cent of the uninsured losses impact residential property owners. Our content partner MoneyWise explores ways to protect your home and budget against devastating loss.
____________________________________________________
Today's Posthaste was written by Gigi Suhanic (@gsuhanic), with additional reporting from The Canadian Press, Thomson Reuters and Bloomberg.
Have a story idea, pitch, embargoed report, or a suggestion for this newsletter? Email us at posthaste@postmedia.com, or hit reply to send us a note.
Listen to Down to Business for in-depth discussions and insights into the latest in Canadian business, available wherever you get your podcasts. Check out the latest episode below: