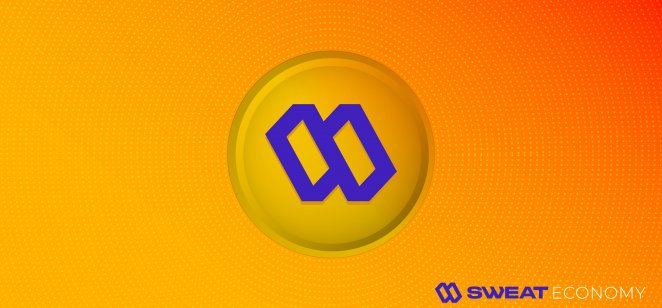 Sweatcoin (SWEAT) has established itself as one of the hottest move-to-earn projects in the cryptocurrency sector having amassed over 13 million users by August 2022.
Its native cryptocurrency, SWEAT, can be earned by walking a certain number of steps everyday. As of 21 October, SWEAT was the world's 477th largest cryptocurrency, with a market capitalisation of over $27.5m. The crypto has lost over 70% since its debut in September 2022.
Who owns the most Sweatcoin's native tokens? Let's  learn more about this move-to-earn cryptocurrency project's biggest token holders.
What is Sweatcoin? 
Sweatcoin is a move-to-earn fitness application that rewards users with in-app tokens as an incentive for physical activity. The project is collectively called the Sweat Economy and is built on top of layer-one blockchain called NEAR Protocol (NEAR).
Users need to download the Sweatcoin Walking Step Tracker, available on the App Store or Google Play Store, to begin earning tokens called sweatcoins. Users earn sweatcoins for walking a certain number of steps. 
What is your sentiment on AAPL?
Vote to see Traders sentiment!
Difference between SWEAT and sweatcoin
It is important to understand the differences between SWEAT and the token before looking at the top holders of sweatcoin.
The Sweat Economy has two tokens: 
Sweatcoins can be redeemed for discount and gift vouchers from various websites and brands, including Amazon (AMZN) and Apple (AAPL). Sweatcoin holders can donate their tokens on the Sweatcoin Walking Step Tracker app to support various environmental and social causes.
Meanwhile, SWEAT is the platform cryptocurrency of the Sweat Economy, which can be staked to earn yields. Users with higher SWEAT stakes get access to better rewards, lower transaction fees and increased daily minting limits.
The SWEAT crypto launched on 12 September in a token generation event where Sweatcoin holders were airdropped SWEAT cryptocurrencies on a 1:1 basis.
Users earn SWEAT with their first 5,000 steps everyday and can earn sweatcoins for the next 5,000 steps. The minting rate of SWEAT is designed to decrease over time. As of 21 October, users were earning 1 SWEAT for  every 1,410 steps. 
After the daily limit of SWEAT earning is reached, users are rewarded 1 sweatcoin for every 1000 steps up to the sweatcoin daily issuance cap.
As of 21 October 2022, SWEAT and sweatcoins are not exchangeable. The project's website said they are "considering this as an option" and "may become available in the future".
SWEAT supply: How many coins are out there?
An understanding of the maximum supply and circulating supply of SWEAT will give us a better idea about the concentration of SWEAT among the biggest Sweatcoin holders.
According to Sweatcoin's litepaper, SWEAT has an uncapped supply. The minting rate of SWEAT is designed to decrease with time such that SWEAT's inflation becomes "exponentially-decreasing".
As of mid-October 2022, the minting rate of SWEAT stands at 1 SWEAT for 1,270 steps. The minting rate is set to decrease to 1 SWEAT for every 18,187 steps by the second half of 2024.
Sweatcoin held its token generation event on 12 September. Sweatcoin holders were given SWEAT cryptos on a 1:1 basis. About 25.8 billion SWEAT cryptocurrencies were minted during the token generation event.
According to Sweatcoin, the Sweat Foundation and SweatCo Ltd will burn 4.8 billion SWEAT to reduce the minted SWEAT to 21 billion tokens.
Data from CoinMarketCap showed the circulating supply of SWEAT stood at about 2.05 billion tokens,  as of 21 October. Majority of SWEAT allocated at its token generation event are currently locked with various unlock periods in place for each party.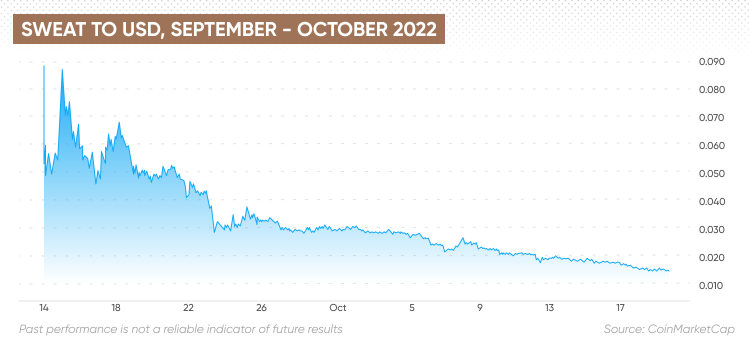 Who owns the most SWEAT coins?
In this section, we will analyse Sweatcoin's token generation event allocation and on-chain NEAR protocol data to see who has the most SWEAT coins. The following section will only talk about the holder profile of the crypto SWEAT and not the in-app token sweatcoin.
During the SWEAT token generation event (TGE) held on 12 September, the company behind the project, Sweatco Ltd, was allocated 4.62 billion tokens, or 22% of the TGE allocation, making the UK-based company one of the top holders of SWEAT coin. 
Sweatco Ltd has burned over 1.1 billion of its SWEAT tokens since then.
The project's foundation treasury was distributed over 6.2 billion SWEAT coins amounting to nearly 30% of the TGE allocation. Over 3.65 billion tokens were burned from the treasury's allocation.
Sweatcoin's team and advisors were allocated 10.6% of the TGE allocation amounting to over 2.2 billion SWEAT tokens.The project's core team consisted of its co-founders Oleg Fomoneko, Anton Derlyatka and Egor Khmelev.
Furthermore, 7% of TGE allocation was allocated for ecosystem support – 24.56% of TGE allocation amounting to over 5.15 billion SWEAT was earmarked for the community.
The remaining 6.2% of TGE allocation was set aside for seed round, private round and public token sales.
Active users were airdropped one SWEAT for each Sweatcoin held prior to the TGE. It is possible that early adopters of Sweatcoin may have significant SWEAT holdings due to the airdrops.
It also should be noted that some of the biggest SWEAT coin holders could have their cryptos locked at the moment. According to the project's blog, only 10% of the SWEAT minted during the TGE are liquid.
Meanwhile, 90% of the remaining SWEAT will be unlocked linearly over the following 24 months, said Sweatcoin.
EtherScan data, as of 21 October, showed there were 2,564 SWEAT-holding addresses on Ethereum (ETH). It should be noted that SWEAT is also available as an ERC-20 token due to NEAR Protocol's compatibility with Ethereum. 
The top three SWEAT-holding addresses were linked to smart contracts. They held over 70% of the 1.059 billion SWEAT tokens on Ethereum.
Wallet addresses linked to cryptocurrency exchanges OkEx, KuCoin and Bitfinex were among the top SWEAT-holding addresses.
The top non-smart contract holding address that was not linked to a cryptocurrency exchange held 3.1% of the total SWEAT supply on Ethereum amounting to over 33.5 million tokens on 21 October.
The bottom line
While SWEAT ownership information may provide insights on the Sweat Economy and its tokens, it should not be used as a one-stop guide or financial advice when trading the move-to-earn crypto project.
It is important to note that cryptocurrency ownership statistics should not be the key reason behind your decision to buy a cryptocurrency. Whether SWEAT is a good investment for you should depend on your trading strategy, risk tolerance, and the size of your portfolio.
It is important to do your own research before making any trading decision. And never trade money that you cannot afford to lose.
FAQs
How many sweatcoin holders are there

EtherScan data on 21 October showed there were 2,564 SWEAT-holding addresses on Ethereum.
Who created Sweatcoin?

Sweatcoin was founded by Oleg Fomoneko, Anton Derlyatka and Egor Khmelev in 2016.
What makes Sweatcoin unique?

Sweatcoin is a move-to-earn crypto ecosystem that rewards users with tokens for their physical activity. It is unique in its approach as it tries to balance its interface with Web 2 and Web 3 elements.
Related reading