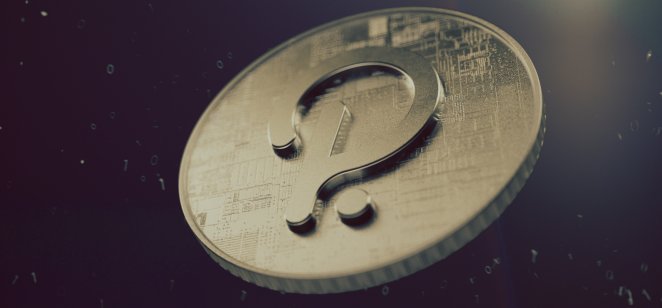 Cryptocurrencies have been criticised for their relatively high energy consumption and consequently large carbon impact.
As a result, several blockchains and cryptocurrency initiatives have migrated from energy-intensive approaches such as proof of work (PoW) to environment-friendly techniques such as proof of stake (PoS). For instance, "The Merge," Ethereum's (ETH) recent transition to PoS, aimed to reduce its environmental effect.
Similarly, the blockchain network Polkadot (DOT) has been attracting the attention of market players despite the market's persistent bearishness.
Bloomberg reported recently that the crypto hedge fund managed by Modular Asset Management has been amassing Polkadot tokens in a bet that currencies with higher sustainability features would outperform once the market stabilises.
The chief executive officer of Modular Blockchain Fund, Daniel Liebau, told Bloomberg that he hopes to get an advantage in volatile markets by selecting coins that he thinks will better resist increased scrutiny of the environmental, social, and governance (ESG) aspects of cryptocurrencies.
Despite the interest, DOT has shed part of its value over the past month, dropping $0.50 from $6.30 on 21 September to its current price of $5.80 as of 21 October. If one looks at a wider time horizon, the asset's trajectory has followed the broader cryptocurrency markets, losing a staggering 78% of its value year-to-date (YTD).
Live Polkadot (DOT) Price Chart
With such prominent interests and rising ESG trends, does DOT have an advantage over other cryptocurrency projects?
Before further examining the particulars, let's determine who owns the most Polkadot.
In addition, we'll analyse DOT's tokenomics and other factors to assess the token's potential future paths.
What is Polkadot and how does it work?
Dr Gavin Wood, one of Ethereum's co-founders and the creator of the Solidity smart contract language, is the founder of Polkadot. The cryptocurrency went live on May 26, 2020. The Web3 Foundation is the major research organisation responsible for maintaining Polkadot's open-source code. 
Polkadot is a protocol designed to construct a network of interoperable blockchains. This would enable separate blockchains to collaborate and interact with one another. The ultimate objective of the project is to create a totally decentralised Web3.
Powered by the DOT, the network's native token, the Polkadot ecosystem aims to address many of the existing constraints of blockchains, such as scalability and security.
Why is Polkadot seen as revolutionary? Blockchains are characterised by their decentralisation, speed, and security in a trustless environment. While most blockchains provide one or a few of these distinctive characteristics, their present design cannot support all of them simultaneously.
For instance, Ethereum is the most prevalent platform for decentralised apps (dApps). However, it is presently not very scalable and has very high gas fees, especially when heavy platform traffic.
Thus, Polkadot comes into play. It is a multi-chain network, meaning it can connect several blockchains. It allows developers to create their own blockchains that interact with all other blockchains in the Polkadot network, reducing network congestion and gas costs.
The Polkadot network enables the development of three distinct kinds of blockchains.
The Relay Chain: This is the primary Polkadot blockchain, where transactions are finalised. To increase efficiency, the relay chain isolates the inclusion of new transactions from their validation. According to tests conducted by the year 2020, this approach enables Polkadot to perform more than one thousand transactions per second (TPS).

Parachains: Parachains are specialised blockchains that employ the relay chain's computing capacity to verify the accuracy of transactions.
The Polkadot token (DOT) has two primary functions inside the Polkadot network: it is a governance token that gives holders a voice in the protocol's development, and it is used for staking, which is how the Polkadot network validates transactions and issues fresh DOT.
Users obtain DOT rewards for staking and engaging on the network. DOT holders also have a role in the network's governance and can vote on proposed software changes.
What is your sentiment on DOT/USD?
Vote to see Traders sentiment!
Polkadot's tokenomics
According to CoinMarketCap, Polkadot (DOT) is the twelfth biggest cryptocurrency by market capitalisation, with a market worth of $6.60bn. As of 21 October, DOT was trading at $5.85, down approximately 90% from its all-time high price of $55 on 4 November 2021.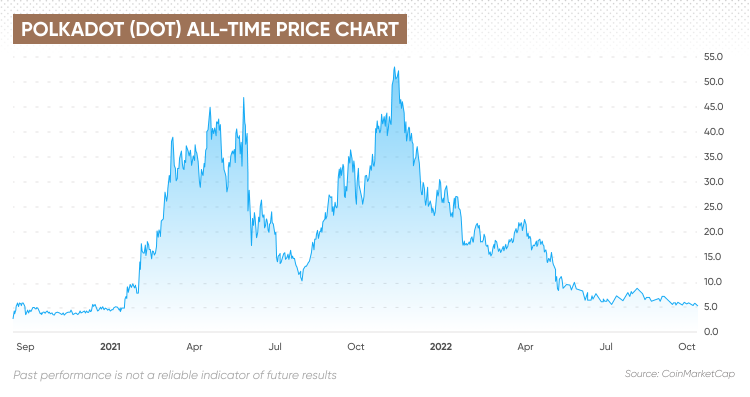 According to ICO Drops, Polkadot's initial coin offering (ICO) raised $144.63m. According to Messari, the sale was divided between a private sale, which raised over $80 million, and a public sale, which raised the remaining funds.
The Web3 Foundation stated in June 2019 that it had sold additional 50 million DOT tokens to an unnamed group of private investors. According to Messari, the project aimed to raise $60m  at a value of $1.2bn via this token sale.
DOT has a circulating quantity of 1.12 billion tokens as of 21 October and no maximum supply, indicating it is an inflationary coin. An inflationary cryptocurrency has a growing supply of tokens in circulation. The value of the token would decrease as its supply increases.
Messari's initial allocation data indicates that 50% of the original token supply was assigned to initial token sale investors, 5% to private sale investors in 2019, and 3.4% to token sale investors in 2020.
The Web3 Foundation retains 30% of the tokens for developing the Polkadot network and other undisclosed Foundation activities and 11.6% for future fundraising efforts.
Who owns the most Polkadot?
According to CoinCarp data, as of 21 October, there were 10,52,857 Polkadot holders. A more comprehensive analysis revealed that the top 10 holders held more than 28.09% of the DOT supply, while the top 100 holders controlled 76.23% of the DOT supply, making the token susceptible to pump-and-dump schemes.
Who has the most Polkadot? As of 21 October, an anonymous wallet held 4.74 billion DOT tokens, equating to 4.3% of the total supply, making it the biggest Polkadot holder.
Among other Polkadot holders, another anonymous wallet held 4.51 billion DOT tokens or 4.09% of the circulating supply, making it the second biggest Polkadot whale.
Meanwhile, several other anonymous wallets held between 0.2%-3% of the current circulating DOT supply, putting them under the top 100 Polkadot holders.
Speculatively, these wallets might belong to Gavin Wood or other ecosystem insiders. They might also be institutional investors, hedge funds, or other entities.
As crypto wallets are anonymous, the identities of people with the most DOT are unavailable to the public. In addition, this information cannot be used to establish the top holders of Polkadot since a single user may maintain many anonymous wallets.
The bottom line
A Messari analysis from August indicated that Polkadot's energy usage was among the lowest compared to other blockchains.
The crypto industry is leaning into the green energy movement.

Through drastic programming overhauls and funding carbon offset projects, protocols are actively breaking down the stigma that crypto is harming the planet. pic.twitter.com/4pFDedYIXb

— Messari (@MessariCrypto) August 11, 2022
Meanwhile, institutional support from entities such as Modular Asset Management has positioned Polkadot as one of the leading competitors in the "green energy" era.
According to the report "State of Polkadot Q3 2022," Polkadot's revenue for the third quarter of 2022 was $115,000, with a circulating P/S ratio of 19,945x. The P/S ratio is computed by dividing a project's fully diluted market capitalisation by its annualised revenues. In this sense, revenue refers to the fees paid by blockchain or dApp users.
Moreover, at the end of the third quarter, the Polkadot treasury had a  fund of over $236 million worth 36.7 million DOT.
Despite having a significant treasury, its treasury expenditures over the last year were just 881,000 DOT (2.4% of the treasury). Approximately 66% of all expenditures occurred in the third quarter of 2022, with the majority allocated to developer tooling support.
Therefore, Polkadot seems comfortable despite uncertain global macroeconomic issues such as recession fears, the Russia-Ukraine conflict, and poor financial market performance.
While it is vital to be aware of these DOT facts, they should not be used as a replacement for your own research. Keep in mind that crypto markets are high-risk and very volatile.
Before trading, always complete your own due diligence by researching the latest news, fundamental and technical analysis, and a broad range of analysts' opinions.
Keep in mind that past performance is not a reliable indicator of future results. And never trade with money you can't afford to lose.
FAQs
Who created Polkadot?

Ethereum co-founder Gavin Wood established Polkadot, and its initial coin offering (ICO) generated approximately $144 million.
Who owns Polkadot?

Polkadot is collectively owned by the Web3 Foundation, its founders, and thousands of investors who have invested in the DOT token.
Is Polkadot secure?

Polkadot employs nominated proof-of-stake (NPoS) as its consensus process, with responsibilities for validators, collators, nominators, and others intended to maximise chain security.
Is Polkadot legit?

Polkadot is the twelfth largest cryptocurrency protocol in the world with a market cap of more than $6.6bn, according to data from CoinMarketCap. The asset has also recently attracted interest from crypto hedge funds, according to Bloomberg.

However, whether DOT is a suitable investment for you will depend on your attitude to cryptocurrencies, as well as your risk profile and investment goals. Always do your own research before trading or investing. And never invest or trade more than you can afford to lose.
What makes Polkadot unique?

Polkadot is a multi-chain network, which means it is capable of connecting several blockchains. It enables developers to establish their own blockchains that communicate with all other blockchains in the Polkadot network, hence lowering network congestion and gas costs.
Related reading