Aptos price has pulled back in the past few days as investors focus on the growing ecosystem. APT was trading at $9.12, which is about 12% below the highest level on October 23rd. It has risen by more than 38% from the lowest level this month. As a result, its total market cap has risen to about $1.2 billion.
Aptos DeFi ecosystem growth
Aptos is one of the newest blockchains in the industry. It is a well-funded Ethereum rival that makes it possible for developers to build quality applications. Its key advantages are that it has significantly lower costs, has a smaller carbon footprint, and is much faster.
It is estimated that Aptos can handle over 160,000 transactions per second (tps). This is a significantly strong number considering that Ethereum can handle less than 30 transactions per second. It is also much higher than that of BNB Smart Chain and Solana.
Still, there are concerns about whether such speed is needed. For example, Visa and Mastercard, which are used by millions of people every day, handle less than 10,000 transactions per second.
At the same time, there are several other projects with faster speeds that have not gained traction. The best examples are Velas and Kadena.
Aptos price has risen recently has investors reacted to the rising DeFi ecosystem. According to DeFi Llama, the total value locked (TVL) in Aptos has jumped to more than $19 million. This growth has been helped by LiquidSwap, AUX Exchange, and Tortuga which have a TVL of over $10 million, $4.8 million, and $2.9 million.
Meanwhile, the APT price has also done well after Aptos launched Aptos Name Service (ANS). ANS is similar to Ethereum Name Service in that it allows users to use a human-readable .apt name for their wallet address instead of their public key. Its benefits are a better user experience, unique web3 identity, and target addresses and subdomains.
Aptos price prediction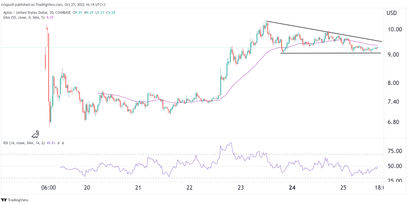 The 30-minute chart shows that the APT price has been in a consolidation phase in the past few days. It has formed a falling wedge pattern that is shown in black. In price action analysis, this pattern is usually a bullish sign.
At the same time, the Relative Strength Index (RSI) has formed a bullish divergence pattern. Therefore, Aptos will likely have a bullish breakout in the coming days. If this happens, the next key level to watch will be at $10.