Cardano price has gone nowhere in the past two weeks as the recent bullish momentum wanes. The ADA coin was trading at $0.3875 on Tuesday, in the same range where it has been in the past few months. This price is a few points below the year-to-date high of $0.4057 and 62% above the lowest level in December last year.
The main catalyst for ADA price is news that Input-Output had launched the public testnet for its new sidechains. These sidechains will be interoperable with other blockchains. It will also be Ethereum Virtual Machine (EVM) compatible.
ADA price daily chart analysis
On the daily chart, we see that Cardano price has been in a slow comeback after crashing to a low of $0.2357 in December. Its highest point this week was along the lowest level on July 13. This means that the coin has found substantial resistance.
At the same time, the coin has formed what looks like a cup and handle pattern. This consolidation is part of the handle section. It has also jumped slightly above the 50-day moving average while the Average True Range (ATR) has moved sideways, 
A look at on-chain data by Token Terminal shows that volume of the coin has been in a downward trend after peaking at $974.4 million on January 10 of this year. It currently stands at about $350 million. 
Therefore, there is a likelihood that Cardano price will remain in this range in the next few days. It will then have a bullish breakout as buyers target the key resistance point at $0.50. A drop below the key support at $0.40 will invalidate the bullish view.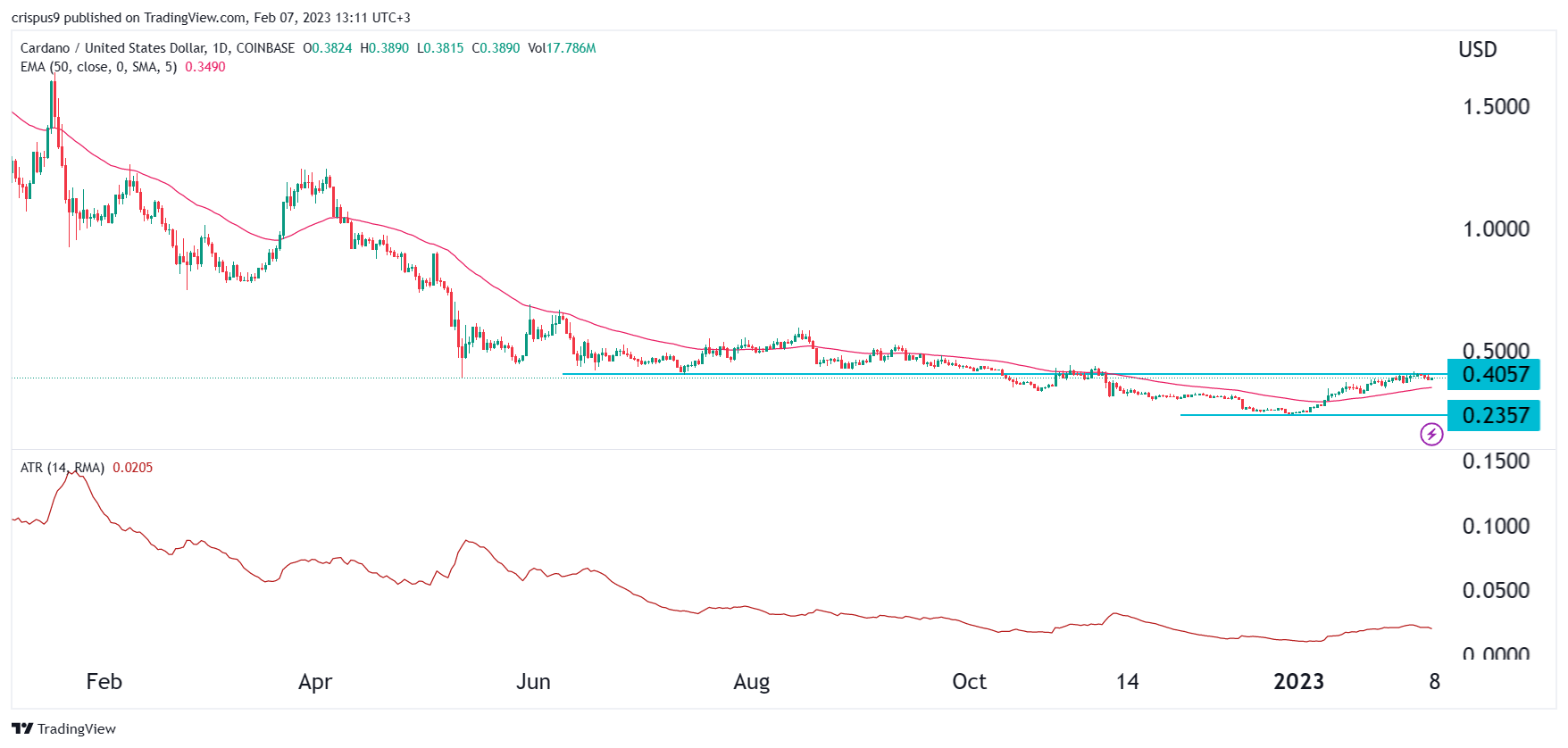 Cardano price forecast
Turning to the 4H chart, we see that ADA price has been in an upward trend. It has formed a rising wedge pattern, which is usually a bearish sign. The coin has moved below the lower side of the riing wedge pattern and crossed the 50-period moving average.
At the same time, the Relative Strength Index (RSI) has formed a symmetrical triangle pattern. Therefore, there is a likelihood that the coin will have a bearish breakout. If this happens, the next key level to watch will be at $0.35.