Dogecoin price continued the sell-off that started on Friday after the US published the January jobs numbers. DOGE dropped to a low of $0.090 on Monday, significantly lower than the year-to-date high of $0.100. This decline was in line with that of other cryptocurrencies like Bitcoin and Ethereum.
Fear and greed drops
Dogecoin price declined sharply as a sense of fear spread in the financial market following the strong jobs numbers from the United States. These numbers revealed that the American economy continued adding jobs even as many big-cap companies announced mass layoffs. On Monday, Dell announced that it will lay off 5% of its workers. Other companies like Microsoft, Google, and Facebook have all laid off workers. 
Therefore, with the broad economy adding more workers, there is a likelihood that the Fed will maintain its relatively hawkish tone in the coming months. It decided to hike rates by 0.25% last week, the smallest increase since last year. As such, with the rate of inflation substantially above the 2% target, analysts believe that the Fed has more room for hikes. Therefore, the fear and greed index has pulled back modestly,
At the same time, Dogecoin's hashrate has continued rising in the past few months. It currently stands at 535 TH/s, which is a few points below its all-time high of 800 TH/s. This is a sign that Dogecoin is significantly healthy. A high hash rate shows that the number of guesses in the network is increasing. Recently, several proof-of-work coins have seen their hash rate jump. They include Litecoin and Bitcoin.
Dogecoin price prediction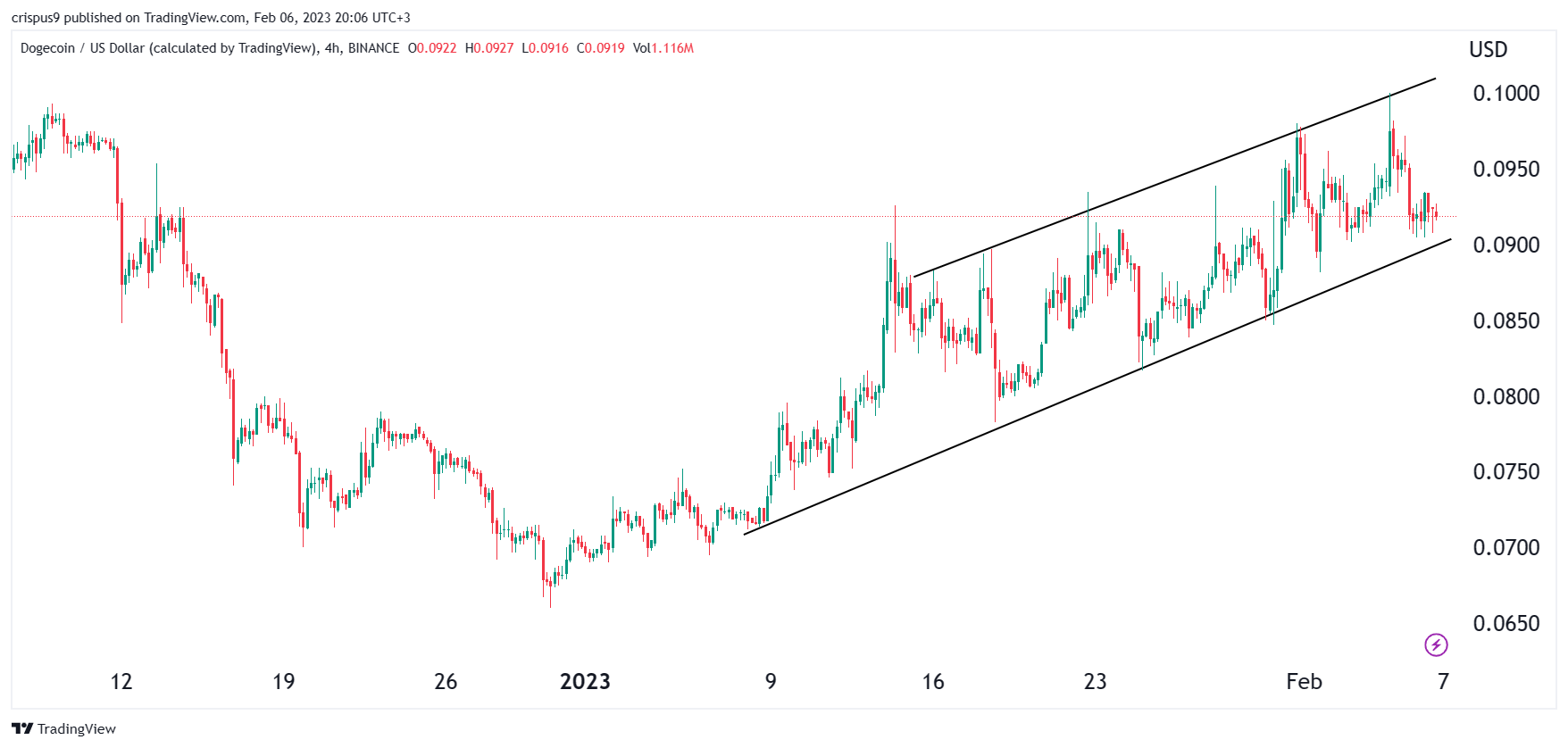 Turning to the daily chart, we see that the DOGE price has been in a strong bullish trend in the past few days. It has now formed an ascending channel shown in black. This price is slightly above the lower side of the ascending channel. It has also formed what looks like a bearish flag pattern. 
Therefore, the coin will likely continue falling as sellers target the lower side of the channel. If this happens, it will then resume the bullish trend and retest the upper side at $0.10. A move below the lower side of the channel will signal that there are still more sellers in the market.