Litecoin price drifted downwards on Monday as the recent crypto rally took a breather. The LTC coin dropped to a low of $98, which was a few points below this month's high of $102. This decline coincided with Bitcoin's move below $30,000 and the US dollar index (DXY) jump to $101.8. Also, the fear and greed index is slowly approaching the extreme greed level.
Investors are getting greedy
Litecoin price rallied sharply last week as investors focused on the rising expectation that the Federal Reserve will start pivoting soon. The case for a pivot emerged after a series of negative economic data from the United States.
For example, the data revealed that inflation dropped to 5% in March, meaning it has almost halved from the highest point in June last year. Other data showed that the manufacturing and non-manufacturing PMIs declined in March.
Further, minutes published by the Federal Reserve showed that some Fed members believed that the Fed should start pausing interest rates. They were worried that the US will move to a recession later this year because of the banking crisis.
The main reason for the Litecoin price pullback is a statement by a Fed official on Friday who warned that the bank will continue hiking rates. He warned that inflation remained at an elevated level in March and that more actions were needed.
Read more: How to buy Litecoin.
As a result, the US dollar index has jumped from last week's low of $100.2 to $101.88. In the past few months, there have been an inverse correlation between LTC and the DXY index.
Still, the fear and greed index shows that investors are still greedy. It stands at the greed zone of 68, which is higher than last week's low of 57. The Bitcoin fear and greed index has moved to the greed area of 69. Therefore, these metrics mean that LTC has more upside.
Litecoin price prediction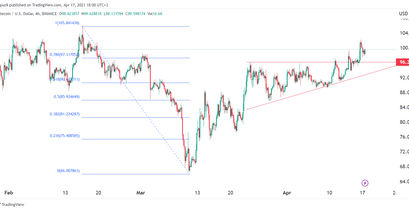 The 4H chart shows that the LTC price has been in a strong bullish trend in the past few days. In this period, it has formed an ascending triangle pattern that is shown in orange. In price action analysis, this pattern is usually a bullish sign. It has now moved above the upper side of the triangle pattern.
LTC remains above the 25-day and 50-day moving averages and the 78.2% Fibonacci Retracement level. Therefore, there is a high likelihood that the coin will continue soaring as buyers target the key resistance point at $105.8, the highest point in March.