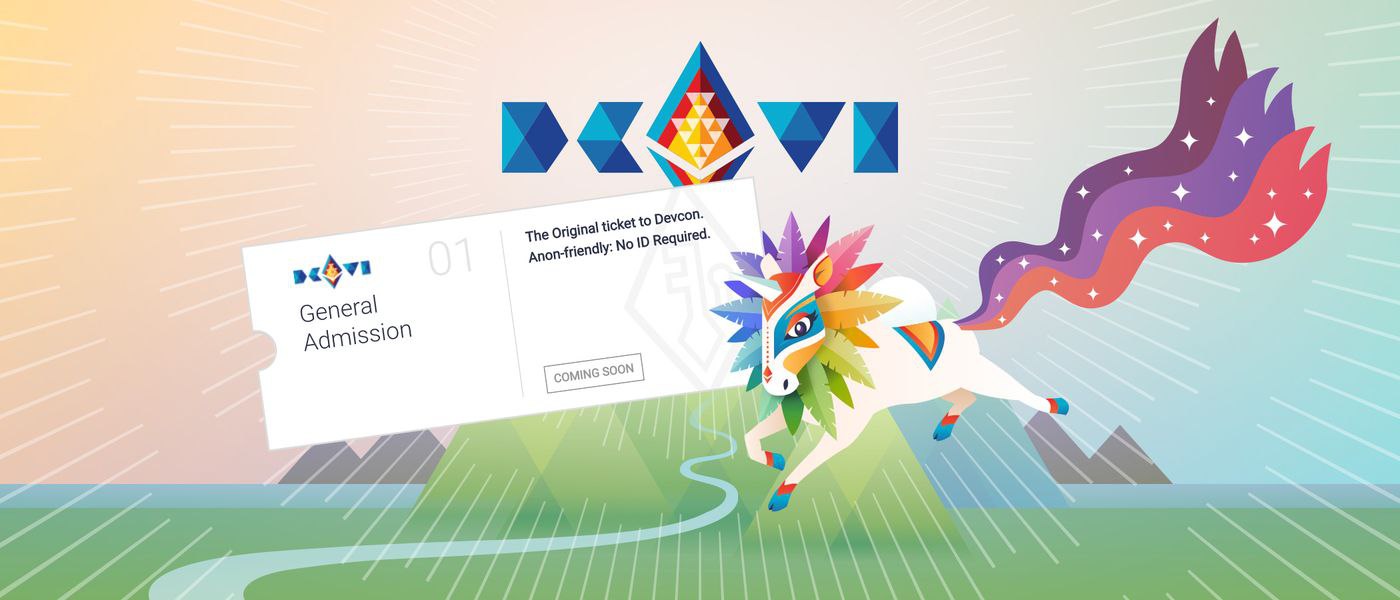 Amigos y amigas!
Today, we want to bring everyone a few details on the ticketing process in advance of Monday's launch, and we have updates on supporter, volunteer, and discount-ticket applications. As the icing on the cake, we'll also introduce you to the Devcon Community Hubs!
But first, we hope you've heard about the pre-sale of Devcon VI tickets in the Auction & Raffle, and maybe even placed a bid. If not, you have one final day to enter to win a ticket to Devcon VI by placing a minimum bid of 0.25 ETH. The Auction closes on July 14, 07:59 UTC.
All participants that don't have the 20 highest bids will end up in the Raffle to potentially win one of 80 Devcon VI tickets at the price of 0.25 ETH each (~50% off the regular price)!
TICKET SALES BEGIN! 🎟
Now we have more news for you: Wave 01 of general admission Devcon tickets will go online on July 18, first at 16:00 UTC and again at 23:00 UTC.
Ticket sales will go online here at the times listed above.
Waves have been a bit of a rush in the past, but we've made changes to work toward a smoother process with multiple timezone options — something that helped many Devconnect attendees!
To ensure more people a fair chance to attend Devcon, ticket purchases are limited to 2 tickets per order, and there will be more ticketing waves to come following next week's release.
Ready? Set your alarms and head over to the Devcon.org Ticketing Page when the wave opens!
Builder, Students & Volunteers 👷
As always, we're working on making Devcon accessible to more people.
More than two thirds of Devcon tickets are (still) either discounted or free and geared toward builders and students among other groups.
We opened builder, student, and volunteer applications way ahead and are working through applications. You can still apply to help as a volunteer or for builder or student discounts.
Closing Supporter Applications 📝
We were excited to announce this year's Supporter Program in lieu of traditional sponsorships. Instead of sponsoring the event, aligned groups are invited to contribute to donations to Ethereum public goods and as a thank you, they'll receive Supporter tickets to Devcon VI.
We owe a big thank you to all groups who have already committed to contributing via the Supporter Program and thereby helping grow the Ethereum ecosystem.
We've been putting some effort into reviewing all of the groups who have applied to participate in the Devcon Supporters Program, and while we're still in the reviewing process, (thanks for the patience to everyone still waiting!) we are closing the Supporters applications to new submissions on July 18, 16:00 UTC.
Each year, we try to make Devcon a more holistic experience, and alongside this, make Devcon more decentralized, community-driven and playful. We're trying to reach this with different initiatives, for example with the Devcon Improvement Proposals (DIPs), with events happening around Devcon organized by aligned groups of the ecosystem, and by adding extra sparkles besides the main programming, like art exhibitions, hacker spaces, and now Community Hubs.
Community Hubs are physical spaces that we want to allocate to dedicated groups from the Ethereum community free of charge, and leave it up to them to organize, facilitate and be responsible for what happens in the Hubs throughout the course of the whole conference.
Community Hubs will be marketing-free, tech or community-focused, dedicated to a specific cause or topic, and they should bring benefit for all Devcon attendees.
We opened a request for proposals (RFP) for Community Hubs!
If you are a community, initiative or interest group, interested in contributing to Devcon VI, head over to the Devcon Forum and apply to get allocated a Community Hub area. You find a full description of the Community Hubs and instructions on how to apply in the RFP.
TL;DR
Stay tuned for the next ticket releases, as well as the first news on speakers and programming here on the Blog or on Twitter.
—
🦄
devcon team